Company Name
Contact Info
Location

3A TUTKAL UYGULAMA TEKNOLOJİLERİ SAN. VE TİC. LTD. ŞTİ.

Tuzla Kimya San. OSB Analitik Cad. No: 40 PK: 34953 / Tuzla / İSTANBUL / TÜRKİYE

Hall: 12

Stand: 1211B

Product Groups
Company Info

Products

Represented Companies

Company Brands
3A Adhesive Application Technologies As 3A Adhesive Application Technology, we are the General Distributor of Valco Melton in Turkey since 2013. Established in 1952 and renamed in 2008, Valco Melton is one of the world s leader suppliers of glue applications and equipments. Valco Melton is present through direct operations and distributorships in over 76 countries across the globe. As Valco Melton, we specialize in the manufacturing, packaging and sealing of items such as corrugated boxes, cartons, books, bags, and pharmaceutical products across the Corrugated, Packaging, Envelope, Folding Carton, Print Finishing, Nonwovens, Tissue/Corewinding, Woodworking Automotive, Product Assembly, Textile, Coating, Laminating, and Bag Manufacturing Industries. We support our customers in every area from providing technical and maintenance service, installation of adhesive application systems, suppliying spare parts to being solution partnership for specific applications both in our own and other brands.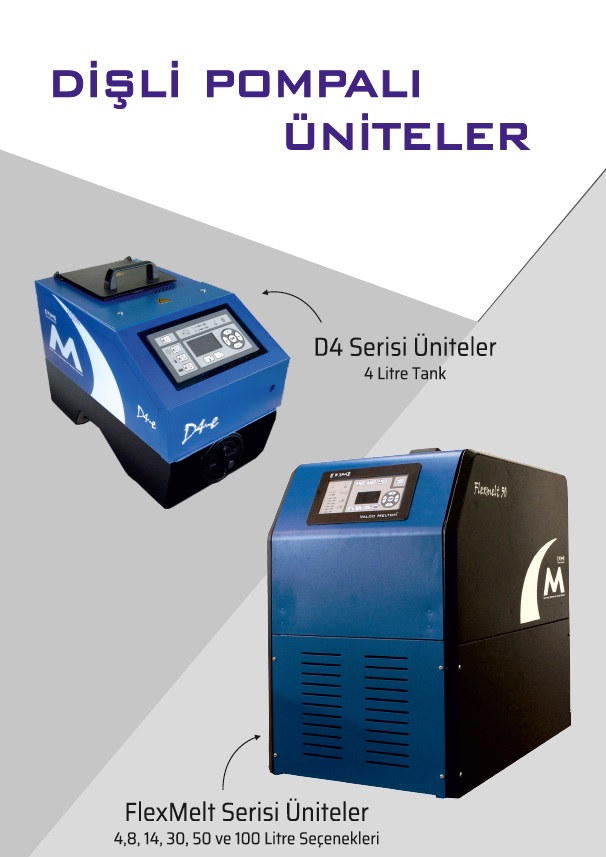 GEAR PUMP UNITS
FlexMelt Series Units & D4-e Series Units
PRODUCT DESCRIPTION:
FlexMelt Series Units - 4, 8, 14, 30, 50 and 100 liters options - Up to 8 hose and gun connections - Easy-to-use, but sophisticated Multi-Function Control - Support any pump combination - Integrated grammage control D4-e Gear Pump Hot Melt Units - 4 liter tank capacity - Large, reliable 1/4 horsepower motor - Gear pump delivers 27 Kg/hour - Teflon® coated tank - 100% compatibility with industry standard hoses and guns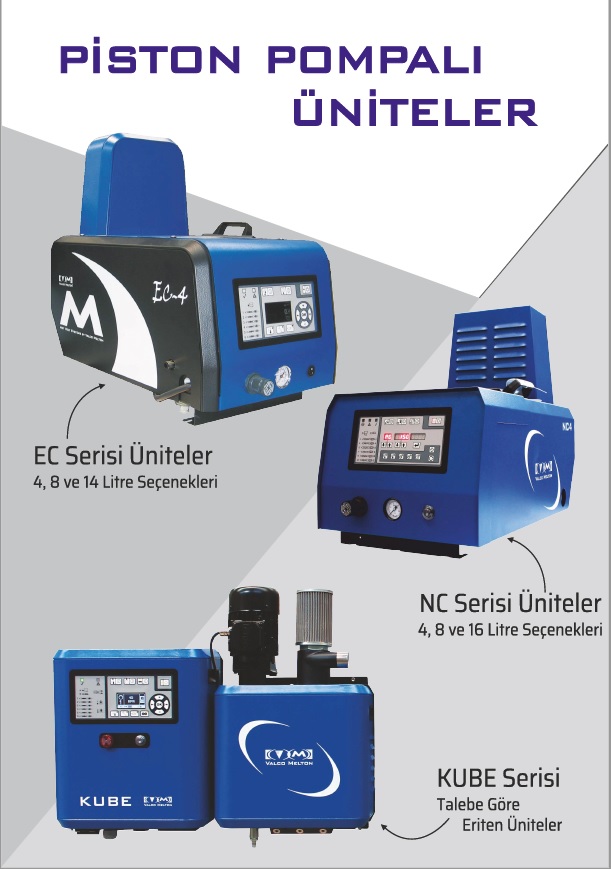 PISTON PUMP UNITS
EC Series Units & NC Series Units
PRODUCT DESCRIPTION:
EC Series Units - 4, 8 and 14 liters options - High performance, multi-functional option-filled hot melt application solutions - LCD control Panel offers Easy and intuitive programming. - 7 day / 3 shift programmable clock - Lid feature for Easy access to electronic components. NC Series Units - 4, 8 and 16 liters options - Easy-to-use, compatible design - Up to six channels for hose / gun connections - Attain highly accurate and controlled temperatures using the PID control system - Industry-compatible equipment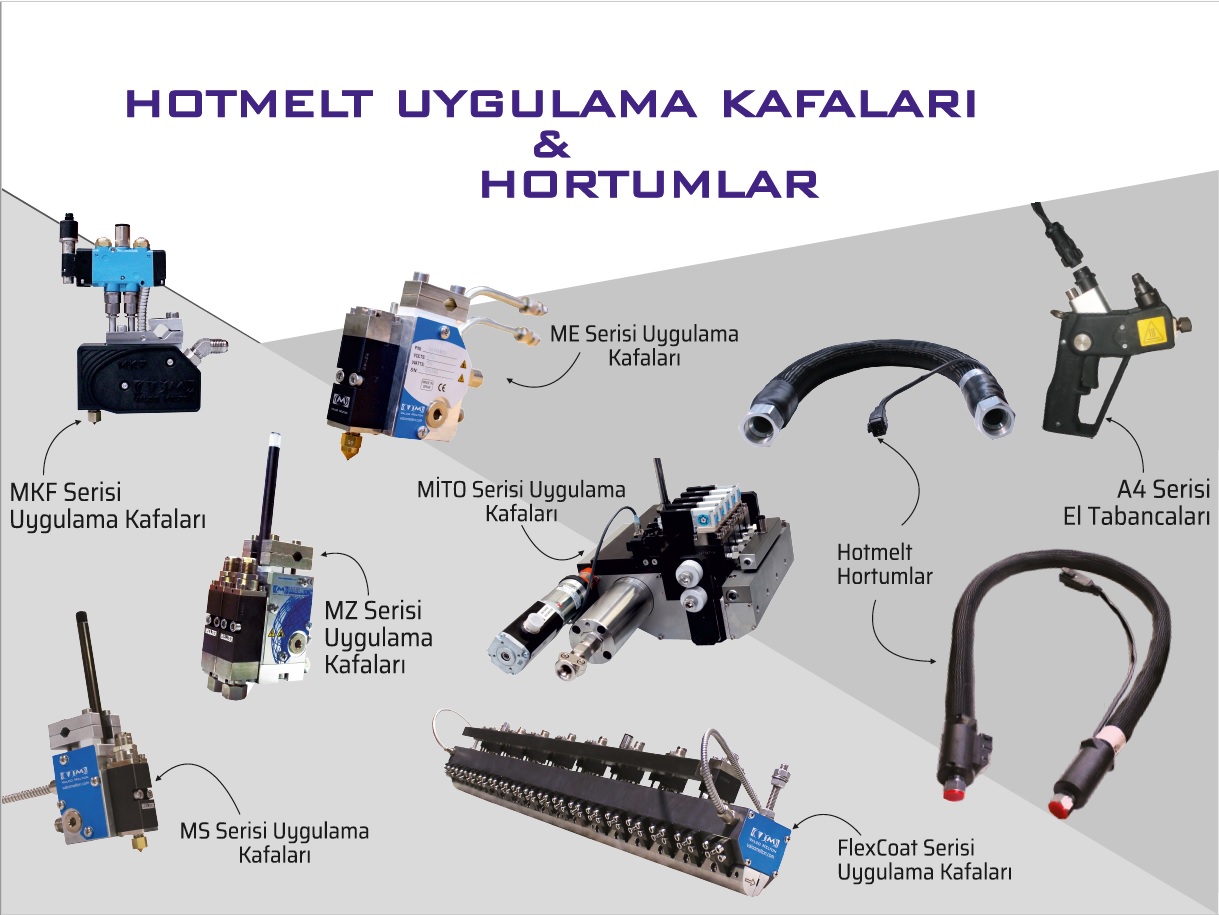 HOTMELT APPLICATION GUNS
HOTMELT APPLICATION GUNS
PRODUCT DESCRIPTION:
EcoStitch MX Valves & Applicators - Designed for very High speed applications - Extremely high speeds reaching 15,000 cycles per minute for short bursts - Have a lifetime capable of more than 2 billion cycles depending on operating conditions - Used for many different applications including Packaging, Folding Carton, Sift Proof Packaging and Slot Coat applications - EcoStitch widely known for Food and Beverage packaging where end users see their adhesive usage reduced by up to 75% for instant ROI and process improvement. MS Series Hotmelt Modular Guns - 100% compatibility with other industry standard spare - Improve production levels with High performance - Durable design - Pneumatic and mechanic opening and closing system MK Series Application Guns - Minimal space required for installation and maintenance - Sharp cut-off for a clean application - Easy configuration modular design - Water resistant - 100% compatible spare parts and connections MZ Series Application Guns - MZ Gun standardized parts are 100% adaptable to your configuration needs - Ideal and economic solution for spray applicaiton - MZ Series Spray Guns were specifically created to better meet the needs of a diverse range of nonwoven and packaging hot melt swirl spray applications. Flexcoat Series Application Guns - Can be easily configured for continuous or intermittent applications - New, adjustable nozzle is an effective low cost solution that allows lamination in both directions MITO Series Application Guns - Servo Motor for consistent adhesive output - MI III Modules designed for precise hot melt dispensing and a sharp cut off at all machine speeds.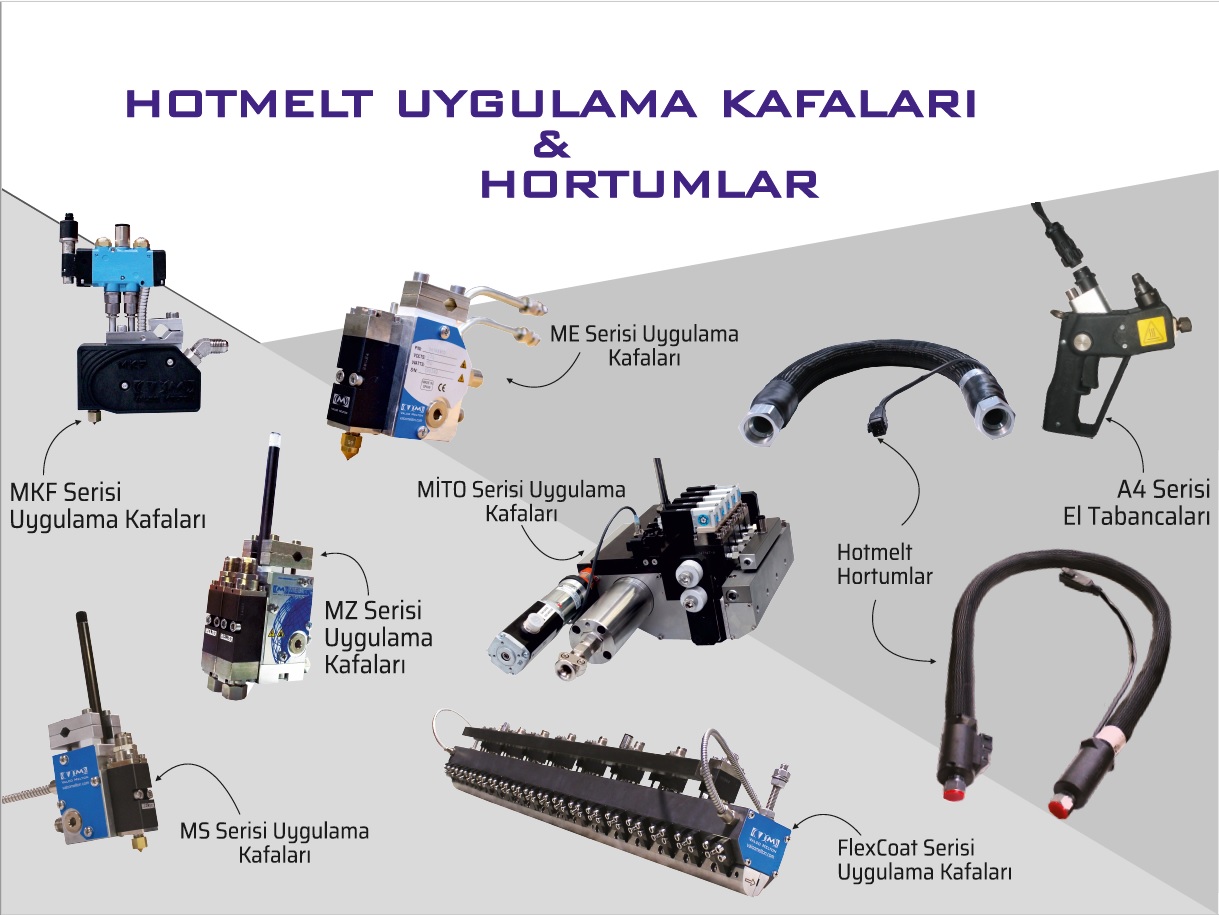 HOTMELT HANDGUNS & HOSES
HOTMELT HANDGUNS & HOSES
PRODUCT DESCRIPTION:
Hotmelt Handgun Series - Easy pattern conversion - 1,500,000 cycles of guaranteed durability - 100% compatible spare parts Hot Melt Hoses - Industry standard compatible - Flexible - Versatile & dependable for all applications - Multi-layers improve insulation characteristics - An ample range of diameters and lengths: (Ø6, Ø8, Ø13, Ø16, Ø20; Hoses available with up to 26 m length)

VALCO MELTON SLUSPAIN
Adres: Pol Ind Comarca I CG D34 31160 Orkoien NAVARRA SPAINTelefon: 34 948 32 15 85web: http://adisticaret.com/
The company has no registered brand information.